My current process involves starting with a digitally painted background and then collaging fractal flames and sometimes photography, digital brush work, color manipulation, among other digital techniques to create truly integrated digital art pieces.
Using multi-digital techniques, my digital art is created using various techniques including:
Photopainting


This combines the disciplines of photography and painting. The artist uses image editing and paint software to go beyond dark room techniques to add further expression to the image.
Integrated digital art

This is the "mixed media" of the digital art world. Artists combine any number of the techniques to achieve unique results. The digital environment is much less restricted than conventional mediums in this type of integration and manipulation.
Digital collage


This is a technique of combining many images from varying sources into one image. This is most commonly achieved by the use of layering techniques in image editing and paint software.
Digital painting

The artist creates images totally in the computer virtual environment with the use of painting tools that emulate natural media styles. Sometimes referred to as "Natural Media".
Fractal rendering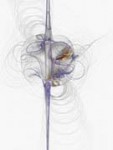 This is art produced exclusively by mathematical manipulations. This is the so-called "computer generated" art. The art lies in the creative intentions and subsequent selections of the artist.
For more information see: What is Digital Art?
I produce my original contemporary prints,using various digital art techniques, on paper, canvas, vinyl, or as transfers on glass and metal using pigmented inks which are fade resistant.